Interlayer Sound Insulating Material
Interlayer sound insulating material

Sound-proof insulation, SuperLon is made of cross-linkable polyethylene with module Product specifications to minimize the sound impact between floors; the soft rolled type is easy to be installed and optimized for standard floor structure.
Product Specification
Configuration
Remarks
Thickness
Width
Length
20T
1M
15M / Roll
Roll Type
30T
1M
12M / Roll
Construction Method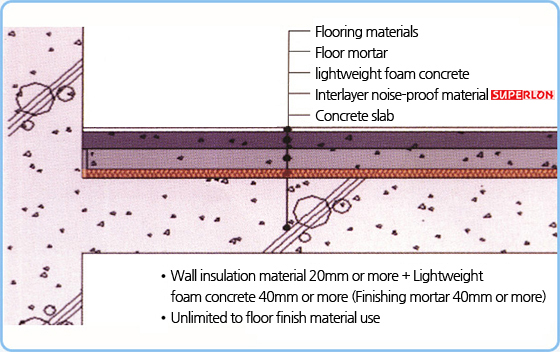 Installation Process
Product Structure
| | |
| --- | --- |
| Product Material | Cross-linkable polyethylene 20mm, 30mm |
| Product Specification | 20mm * 1M * 15M / 30mm * 1M * 12M |
Product Features
Sound insulation and sound absorption
It has excellent sound insulation and sound absorption, using 3-dimensional network structure material of foam ethylene that can reduce noise; it has great effect on light and heavy sound by a wide frequency range of applications.
Insulation and non-absorbency
It has a low thermal conductivity due to its independent foam structure; it has excellent insulation effect and its non-absorbent material does not deteriorate insulation performance in the long term.
Durability
No chemical change to the surface and no physical change by temperature.
Elasticity
It has perfect resilience against load.
Waterproof
The product is waterproof with concrete sealing and seamless foam layer between the upper and lower part for airtight installation and no foam crack.
Convenient installation
The product standardization makes installation convenient at the site and unnecessary to separate; it has excellent elasticity and hence durability during and after installation.
Environment friendliness
No environmental problem during construction or dismantlement for no use of adhesive.
Stability
It has high safety for low dynamic deformation characteristics such as residual deformation by fixed load, falling object, or movement of resident.
Adhesiveness
Its flexible material is fully adhered to the floor.
Certificates and test reports
[20T, 30T / Density out dynamic elastic module]

ISO 9001

Quality Management Certificate

Quality Management Certificate

Quality Assurance certification

Venture Business Certificate