Heat-reflective insulation
Heat-reflective insulation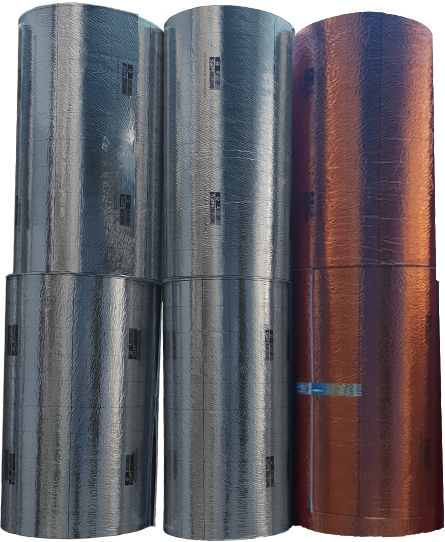 Heat-reflective insulation SuperLon complements the disadvantages of existing bulk insulation such as performance degradation by physical properties, inconvenient handling and installation and economic efficiency; it is multi-functional multi-layer reflective insulation including pure aluminum foil, polyester and polyethylene layer for optimum insulation.
Specifications
Blocking heat loss

Surface reflectance of ALUMINUM FOIL is more than 90%, blocking radiation from the outside in summer, and it is effective in reducing heating cost, blocking thermal loss with low-emissivity (0.03ε) in winter.

Sealability

Airtight installation is applicable to areas such as column, beam and corner where bulk insulation cannot be installable.

Moisture resistance

Polyethylene foam is moisture-proof to prevent deterioration of insulation performance.

Construction-ability

A single installation up to 60T reduces labor cost and shortens construction time.

Breakage prevention

A soft product prevents breakage during installation and handling and maintains a clean site.

Operability

Easy to cut and transport; no insulation damage when handling with the finish materials.
Product Specification
Configuration
AL film + polyester (long fiber non woven fabric) + cross-linkable polyethylene (PE) foam
Thickness
Length
Remarks
5T
45m/Roll
Flat Plate Type
6T
50m/Roll
10T
25m/Roll
13T
25m/Roll
20T
20m/Roll
Flat plate + Perforated Type
30T
10m/Roll
Options
Double sided AL, copper foil AL, adhesive type